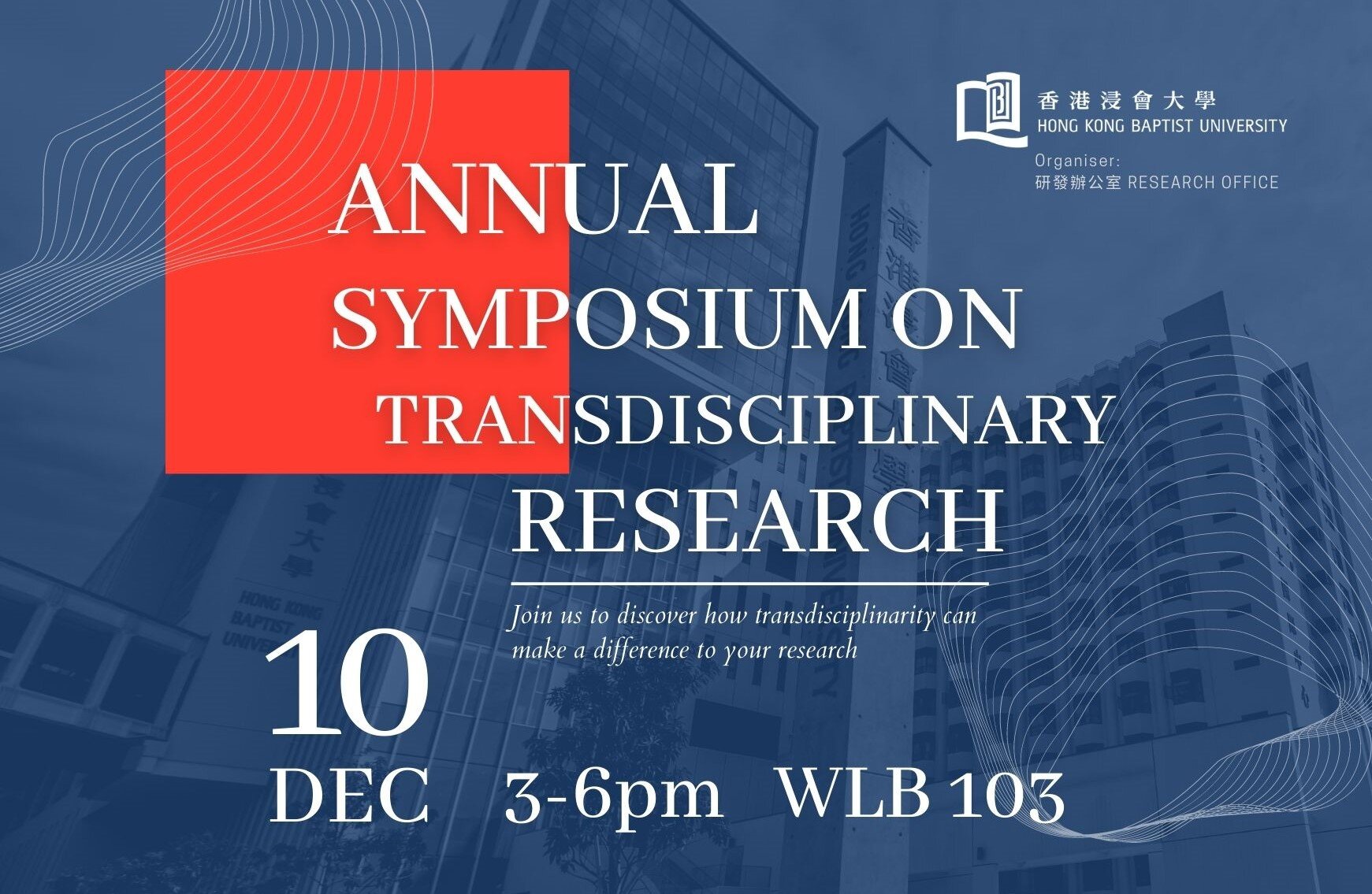 The Annual Symposium on Transdisciplinary Research aims to nurture the interdisciplinary research culture at HKBU. It will bring together scholars of various fields to exchange ideas, discuss and explore opportunities and strengths in interdisciplinary collaboration.

Eight researchers will present their transdisciplinary projects supported by the Interdisciplinary Research Matching Scheme, covering a wide spectrum of research areas ranging from art and technology, artificial intelligence and drug discovery, disease detection, DNA sequencing and more. Following the presentations, there will be a roundtable discussion in which our Interdisciplinary Lab members will share their insights, in-depth knowledge and first-hand experience in undertaking collaborative transdisciplinary research.

Join us at the Annual Symposium on Transdisciplinary Research to learn more about the University's research advancement and discover how transdisciplinarity can make a difference to your research!
3:00

Welcome Remarks

Prof Alexander Wai Ping-kong

President and Vice-Chancellor

Opening Remarks

Prof Yike Guo

Vice-President (Research and Development)

Introduction

Prof Johnny Poon

Associate Vice-President (Interdisciplinary Research)

3:20

Presentations

New Hope for Treating Parkinson's Disease with Transdisciplinary Approach

Prof Ken Yung

Computational Medicine Lab Department of Biology

Uncovering New Clues to Fight Against Mechanical Unloading-induced Bone Loss

Dr Liu Jin

System Health Lab

School of Chinese Medicine

Using AI to Characterise Diseases like Cancers

Prof William Cheung

Computational Medicine Lab

Ethical and Theoretical AI Lab

Department of Computer Science

Interdisciplinary approaches to gene detection and cancer diagnosis.

Prof Zhongying Zhao

System Health Lab

Department of Biology

Symbiotic Dancing Creation: Finding the right tool for the job or redefining the job for the tool?

Dr Peter Nelson

Augmented Creativity Lab

Academy of Visual Arts

Building Resilience to Information Disorder in Hong Kong: An Interdisciplinary Approach

Dr Celine Song

Smart Society Lab

Ethical and Theoretical AI Lab

Department of Journalism

Data analytics for the greater goods
Dr Ting Chen

Data Economy Lab

Department of Economics

Cracking Puzzles in Atmospheric Science with Data-driven Approaches
Dr Meng Gao

Smart Society Lab

System Heath Lab

Department of Geography

4:40

Roundtable Discussion:

Transdisciplinary Collaboration

Moderator

Prof Yike Guo

Vice-President (Research and Development)

Panelists

Prof Christy Cheung

Professor, Department of Finance and Decision Sciences

Prof Jiming Liu

Dean, Faculty of Science

Prof Lyu Aiping

Dean, School of Chinese Medicine

Dr Peter Nelson

Assistant Professor, Academy of Visual Arts

Prof Ken Yung

Executive Associate Dean, Graduate School

5:15

Q&A

5:30

Closing
VENUE
WLB 103
Lam Woo International Conference Centre
Level 1, The Wing Lung Bank Building for Business Studies
Shaw Campus, Hong Kong Baptist University
34 Renfrew Road, Kowloon, Hong Kong