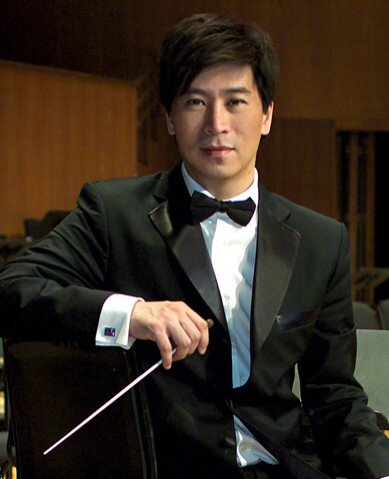 Associate Vice-President (Interdisciplinary Research) Founding Dean, School of Creative Arts Dr. Hung Hin Shiu Endowed Professor in Music
JOINT CHAIR
AUGMENTED CREATIVITY
Professor Johnny Poon, the inaugural Dr. Hung Hin Shiu Endowed Professor in Music, is the Associate Vice-President (Interdisciplinary Research) at Hong Kong Baptist University. He is serving concurrently as the Founding Dean of the School of Creative Arts.
Since 2018, he has also taken on a leadership role as convenor of the Creative Media/Practice Research Cluster, spearheading the development of one of the strategic research foci at the university; and he is also the anchor person of the Faculty Niche Research Area Subgroup in Performance Studies.
Professor Poon has maintained a highly successful and distinguished professional career as a conductor, appearing regularly in concert halls and festivals across the globe including Isaac Stern Auditorium, Zankel Hall and Weill Recital Hall at Carnegie Hall; Glinka Cappella Hall, Novgorod Philharmonic Hall, and Gnessin Institute of Arts in Russia; National Centre for the Performing Arts and the Forbidden City Concert Hall in Beijing, China; Operafestival di Roma in Italy, Harlaxton International Music Festival, Manhattan-Hong Kong Music Festival, and Hong Kong Arts Festival. He has conducted such ensembles as Moscow State Philharmonic Orchestra, St. Petersburg State Capella Orchestra, Sudestdeutsche Philharmonie, Kammarkoren Svenska Roster, Kammerchor Stuttgart, Slezske Divadlo Opava, Opera Hong Kong, Sinfonica dell' international Chamber Ensemble, New England Symphonic Ensemble, Taiwan Baroque Camerata, Beijing Central Conservatory Symphony Orchestra, Tsinghua University Philharmonic, Manhattan School of Music Symphony Orchestra, Xiamen Philharmonic Orchestra, Shenzhen Symphony Orchestra, and the Hong Kong Philharmonic Orchestra. He is presently Music Director of HKBU Symphony Orchestra; Founder and Music Director of Collegium Musicum Hong Kong.
Previously, he held positions as Director of Opera at University of Evansville (USA), Music Director of Evansville Collegium Musicum (USA), Associate Conductor of OperaFestival di Roma (Italy), Artistic Director of Harlaxton International Chamber Music Festival (UK), and Manhattan-Hong Kong Music Festival (USA/HK).
Professor Poon serves in a number of committees and advisory boards in Hong Kong and abroad, including Curriculum Development Committee on Key Learning Areas (Arts Education), Education Bureau; Programme and Development Committee (PDC) and Art Form Panel (Music), Home Affairs Bureau (HAB), Leisure and Cultural Services Department (LCSD); and Hong Kong Arts Development Council (ADC). He is also the chairman of the Advisory Committee for the Division of Cultural and Creativity at United International College, Zhuhai (UIC); artistic advisor of Macao Orchestra. He has also served on panels for various organisations, accreditation reviews, and award schemes such as Hong Kong Scholarship for Excellence Scheme Award; High-level Advisory Panel of the Chief Executive's Award for Teaching Excellence (CEATE); Hong Kong Jockey Club Music and Dance Scholarship Scheme; Hong Kong Arts Development Council Awards, Hong Kong Academy for Performing Arts; Hong Kong Education University; HKU School of Professional and Continuing Education; Hong Kong Council for Accreditation of Academic and Vocational Qualifications (HKCAAVQ). He is an elected fellow of the Hong Kong Academy of the Humanities.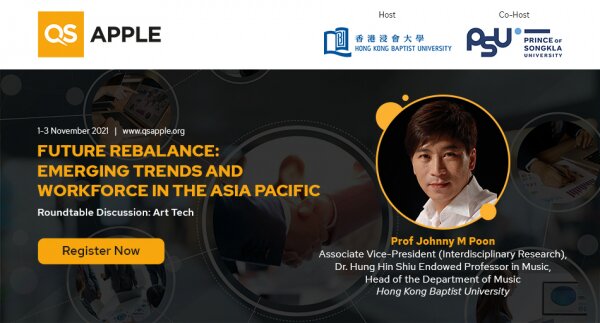 QS APPLE 2021
Excited to announce that I will be speaking at the 17th edition of QS APPLE 2021 (Nov 1-3)! Join me and thousands of highereducation thought leaders to explore emerging trends and workforce in the Asia Pacific: https://qsapple.org/agenda/
Members of my network can claim 30% off the Full Pass: https://qsapple.org/registration?promo=SPEAKERGUEST
Hosted by HKBU, with the Prince of Songkla University as the co-host, this year's virtual program includes interactive panels and keynotes spread across 5 exciting conference tracks – Crossing Disciplinary Divides | Thriving Through Collaboration | Cultivating Great Minds |Finding the Next Big Thing | Student Flows During a Pandemic.
I hope you will have an unforgettable conference experience, and bring back to your organisation game-changing learning takeaways while networking and building strategic partnerships with the thousands of fellow Higher Education thought-leaders in attendance. See you there!
Project Highlights
HKBU Symphony Orchestra Annual Gala Concert 2019 (Highlights)
George Gershwin: Rhapsody in Blue / Pyotr Ilyich Tchaikovsky: 1812 Overture
Johnny M Poon, conductor, Andrew von Oeyen, pianist, HKBU Symphony Orchestra

ARIA (public presentations at Forsgate Conservatory, HK Park, as part of New Vision Arts Festival).
Johnny M Poon, conductor; Eugene A. Birman, Composer / Artistic Director (Music); Kingsley Ng, Artistic Director (Visual); Theatre of Voices (Denmark), Choral Performers (via hologram); Hong Kong Children's Choir, Choral Performers



360° Virtual Journey