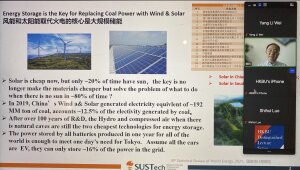 Prof Ke Liu, Chair Professor and Dean of School of Innovation and Entrepreneurship, Southern University of Science and Technology of China, delivered a distinguished lecture titled "Reality and Pathways of Carbon Neutralization" on 22 March 2022.
Prof Liu pointed out that the renewable energy especially the cost of solar energy has been reduced dramatically in recent years, however the time that has sunshine is less than approximate 20% of the total time, making energy storage the key to carbon neutralization. In his lecture, Prof Liu helped the audience to understand China's strategy on reducing carbon emissions through the discussion on the large-scale energy storage technologies, the future of energy infrastructure, hydrogen energy and vehicle energy.
Co-organised by the Institute of Creativity (IoC) and the Research Office, the lecture was part of the HKBU Distinguished Lecture Series 2022 that aims to bring leading researchers from the field of interdisciplinary research to talk about current grand challenges.
About the Speaker
Prof Ke Liu is currently the Chair professor of the Southern University of Science & Technology, the Dean of School of Innovation & Entrepreneurship and Dean of Clean Energy Institute. He is also a Fellow of Australian Academy of Technology and Engineering and a partner of the Enverra Capital LLC. Enverra was funded by the former Supreme Allied Commander of NATO, and 2004 Democratic Presidential Candidate General Wesley Clark, the Founder of the US-Quarter Business Council, and the Senior Partner of the Patton Boggs LLP Mr. David Dunn et al. Enverra combines its global leadership to promote clean and sustainable energy technologies and natural resources to reduce emissions globally. He received a variety of national and international awards, including "The Minorities in Research Award" (2006 Emerald Honors Special Recognition Award).
About Institute of Creativity
Supported by Hung Hin Shiu Charitable Foundation, the Institute of Creativity is established to strengthen the research culture, nurture a critical mass of research talent, sharpen the research performance and further promote the development of interdisciplinary research and theme-based research on campus. The Institute is led by renowned scholars in different academic disciplines, outstanding business leaders, successful entrepreneurs from the industries. For details, please visit http://ioc.hkbu.edu.hk/.
You May Also Be Interested In