Higher education leaders discuss building resilient universities at QS APPLE Conference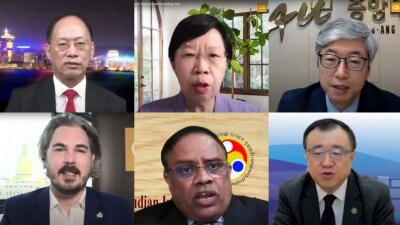 The Quacquarelli Symonds Asia-Pacific Professional Leaders in Education (QS APPLE) 2021 Conference, hosted by HKBU and co-hosted by Prince of Songkla University in Thailand, was held virtually from 1 to 3 November with the theme "Future Rebalance: Emerging trends and workforce in the Asia Pacific". The conference features more than 80 distinguished speakers from world-leading universities and organisations, and the programme includes keynote speeches, debates, panel discussions and case studies that reflect the opportunities and trends in education in the Asia-Pacific region.
In his opening remarks at the conference, Professor Alexander Wai, President and Vice-Chancellor of HKBU, pointed out that higher education is in the midst of an exciting transformation brought about not only by the pandemic, but also the incredible advances happening in AI and the technology sector. He said that in this fast-evolving world, we need to race against time: "Education is the key to adapting to new technologies, and universities will play a key role in closing an imminent skills gap by enabling their students to acquire transferable competencies alongside technological skills.
A Presidents Panel on the theme "Building resilient universities for tomorrow: An Asian perspective" was held on the first day of the conference. In the panel, distinguished higher education leaders in the Asia-Pacific acknowledged that the strategic direction of transdisciplinary education and research is fundamental to the development of higher education in the region, and that universities need to become more resilient to cope with technological advancements and uncertainties in the post-pandemic era.
Please click here for more details.
You May Also Be Interested In