Speaker

Mr Tony Chik-ting Lam, Senior Advisor of Tonic Consulting Limited
---
Time
1:00pm – 2:00pm , 22 Jun 2021
---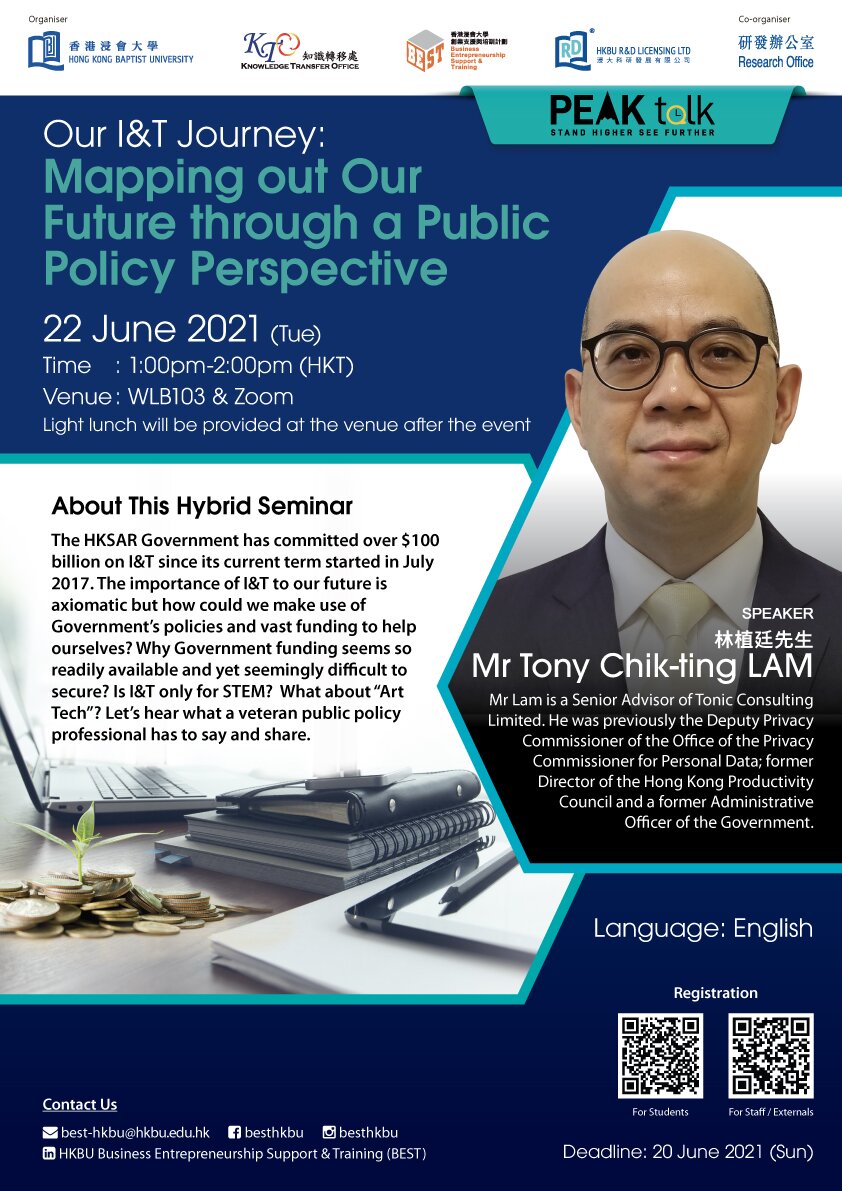 Abstract:
The HKSAR Government has committed over $100 billion on I&T since its current term started in July 2017. The importance of I&T to our future is axiomatic but how could we make use of Government's policies and vast funding to help ourselves? Why Government funding seems so readily available and yet seemingly difficult to secure? Is I&T only for STEM? What about "Art Tech"? Let's hear what a veteran public policy professional has to say and share. Please come if you wish to apply for more Hong Kong Government funding.
About the speaker:
Mr Tony Chik-ting Lam is a Senior Advisor of Tonic Consulting Limited. He was previously the Deputy Privacy Commissioner of the Office of the Privacy Commissioner for Personal Data; former Director of the Hong Kong Productivity Council and a former Administrative Officer of the Government.
He was engaged in the latest technology development landscape like big data analytics and artificial intelligence from the perspective of protecting personal data privacy. Besides he has rich experience in policy-making and implementation on Hong Kong's science and technology infrastructures, funding and incubating technology start-ups.
Details of this hybrid seminar:
Date:

22 June 2021 (Tue)

Time:

1:00pm – 2:00pm (HKT)

Venue:

In person at WLB 103
Online via Zoom

Eligibility

For HKBU students / staff / externals

Language:

English

Registration:

Students: HERE

Staff and Externals: HERE

Registration deadline:

15 June 2021 (Tue)

***Light lunch will be provided at the venue after the event***
Register NOW! Limited seats available on a first-come first-served basis. You will be able to find valuable takeaways. Should you have any questions regarding the hybrid seminar, please contact us at best-hkbu@hkbu.edu.hk.
You May Also Be Interested In