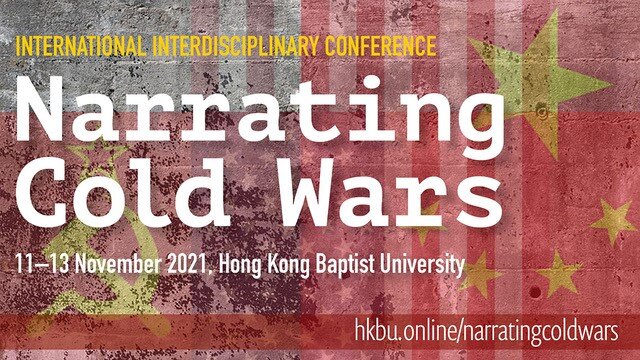 Conference on the enduring legacy of cold war narratives draws more than 70 speakers from across the globe
The year 2021 marks the 30th anniversary of the end of the "Cold War", a half-century of superpower rivalry that has generated stubbornly rigid ways of thinking about our world.
Between 11 and 13 November, the School of Communication and Film will host a conference critically exploring the ways in which cold wars have been narrated, what these narratives have left out, and how alternative possibilities may be imagined.
The three-day event will feature a dozen invited experts and more than 60 paper presenters, selected from submissions responding to our open call.
THURSDAY 11 NOVEMBER (HONG KONG TIME)
KEYNOTE: Issues in Cold War Historiography – Professor Louis Menand, Harvard University
FILMMAKER LECTURE: The Shortest Speech – Dr Naeem Mohaiemen, Columbia University
KEYNOTE: Sadequain Naqvi: a 'Pakistani Picasso' for the Cold War – Professor Caroline Jones, Massachusetts Institute of Technology
ROUNDTABLE: Plural Histories, New Imaginaries – Professor Ute Meta Bauer, Nanyang Technological University; Professor Caroline Jones, Massachusetts Institute of Technology
FRIDAY 12 NOVEMBER (HONG KONG TIME)
KEYNOTE: The Galaxy Empire – Professor John Keane, University of Sydney; Professor He Baogang, Deakin University
KEYNOTE: China at the Dawn of the Cold War: Between Class War and the New Internationalism – Professor Rana Mitter, Oxford University
ROUNDTABLE: Cold War 2.0? – Professor Kanti Bajpai, National University of Singapore; Mr Ian Johnson, Former New York Times correspondent in China; Dr Maria Repnikova, Georgia State University
The conference is online and all are welcome to attend by Zoom. Admission is free of charge, but registration is required.
Please click here for the full agenda and registration for the event.

The conference is organised in collaboration with Academy of Visual Arts and the Department of Government and International Studies.
You May Also Be Interested In