RESEARCH THEMES
The Ethical and Theoretical AI Lab propels frontier research on basic theories of artificial intelligence, with a particular emphasis on machine and cognitive behavior studies, as well as central issues in philosophy, ethics, AI verifiability, and AI interpretability. Adopting global perspectives, the Lab focuses on highly topical issues in these cutting-edge research fields. We plan to recruit best-in-class researchers over the next three years, with the aim of pioneering world-class research in Hong Kong, so as to build up China's leading Ethical and Theoretical AI Lab. The Lab will also join hands with global industry leaders, including Huawei, etc., to promote synergy between theoretical and practical pursuits, to effect social impact, and to refine and develop the discourses used to discuss crucial issues in ethical and theoretical AI.
Laboratory Search Committee
Joint Chairs:
Prof. Mette HJORT, Dean, Faculty of Arts

Prof. Yi-Ke GUO, Vice-President (Research and Development)
Members:
Prof. Mark SHUTTLEWORTH (Translation, Interpreting and Intercultural Studies)

Prof. Jiming LIU (Computer Science)

Prof. Chris WONG (Biology)

Dr. Ellen ZHANG (Religion and Philosophy)

Prof. John ERNI (Humanities and Creative Writing)

Dr. William CHEUNG (Computer Science)

Prof. Christy CHEUNG (Finance and Decision Sciences)

Dr. Celine SONG (Journalism)

Prof. Xue-Cheng TAI (Mathematics)
Ethical and Theoretical AI Lab Event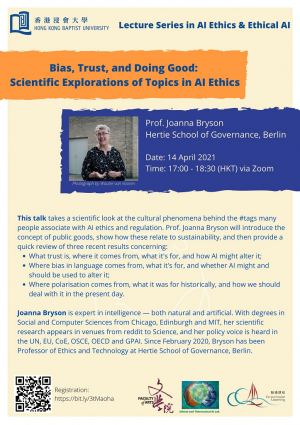 Lecture Series in AI Ethics & Ethical AI:
Bias, Trust, and Doing Good: Scientific Explorations of Topics in AI Ethics
Date: 14 April 2021 (Wednesday)
Time: 17:00 - 18:30
Language: English
Venue: Zoom

Presenter: Professor Joanna Bryson, Hertie School of Governance, Berlin
Online registration:
https://hkbuhk.ca1.qualtrics.com/jfe/form/SV_ewzHwaSrgLPn23I
Enquiries: artsoc@hkbu.edu.hk / 34112647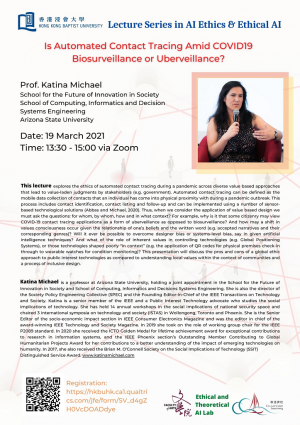 Lecture Series in AI Ethics & Ethical AI:
Is Automated Contact Tracing Amid COVID 19 Biosurveillance or Uberveillance?
Date: 19 March 2021 (Friday)
Time: 13:30 - 15:00
Language: English
Venue: Zoom

Presenter: Professor Katina Michael, School for the Future of Innovation in Society, School of Computing, Informatics and Decision Systems Engineering, Arizona State University
Online registration:
https://hkbuhk.ca1.qualtrics.com/jfe/form/SV_d4gZH0VcDOADdye

Enquiries: artsoc@hkbu.edu.hk / 34112646 / 34112647